Procedural Steps for Applying for St Kitts and Nevis Citizenship by Investment
Program Steps Overview:
The St Kitts and Nevis Citizenship program is one of the oldest and most respected in the world. St Kitts and Nevis offers a passport that has been the first choice travel solution for global entrepreneurs and businesspersons for over 25 years. The islands of St Kitts and Nevis are situated in a beautiful and peaceful area of the Caribbean commonly known as the West Indies offering fantastic luxurious tax free living to all citizens as well as an excellent lifestyle.

Live in Total Luxury, Peace and Tranquility, Sites to See, Untold Quantity of Activities, Simply Put - "Life on St Kitts and Nevis"
Steps to be taken when applying for Citizenship by investment:
Step One - Agent Consultation and Paperwork:
Decide which investment is best for you.
Pay the professional and legal fees and collect and complete all the required paperwork for the due diligence agency.
Your agent will guide you through collecting all paperwork and organizing required documents submit along with your application.
Step Two - Paper Submission and Document Due Diligence:
Your application will be submitted to the government and the due diligence will begin when all the necessary documents have been submitted. The due diligence process can be time consuming depending on the circumstances of each individual applicant, however the time it takes is usually between 30 and 60 days.
Step Three - SIDF and Escrow Account Formation:
While the documents are being processed, you must pay the calculated investment amount into the escrow accounts if you have chosen the SIDF option For the real estate option this is the time that you should schedule a visit so that you can pick the perfect property.
Step four - Approval Letter and Apply for St Kitts and Nevis Passport:
Once the approval letter is issued, you will then receive a citizenship certificate of registration and your certificate of title for property for the real estate option. You may apply for your St Kitts and Nevis passport immediately after you have received this documentation.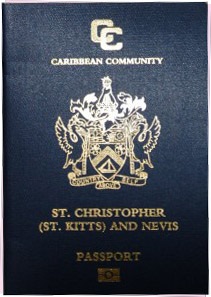 Other Important Articles You Must Read:
Return to Main Citizenship Information Page
Disclaimer: All information contained within the Citizenship pages of Oualie Realty is for information purposes only and was correct at the time of publishing, May 30, 2013. Oualie Realty have an approved representative by the Citizenship-by-Investment Unit dealing with all applications.